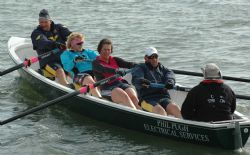 Can I try it out?
Yes, you can row with us on two Saturday mornings at 10.00am (for £3 a go) before joining.
When you know you like rowing you can then join - the fee for an adult is £75 a year which includes full insurance and full use of all the club's boats and equipment.plus individual membership of Dyfi Yacht Club .
How do I join?
Come to our boathouse on the Wharf in Aberdyfi on Saturday morning and get a membership form.

Juniors

We have a thriving juniors section for young people aged 14 and over.
For more information about our club contact Committee members :
Useful Links