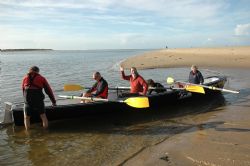 History of club
In May 1997 Charlie Bartlett, a commercial skipper running sport fishing trips out of Aberdyfi, was asked by Aberystwyth rowing club to be a support boat skipper for the Celtic Challenge (A 90 mile rowing race from Arklow in Ireland to Aberystwyth in Wales). During the race, he had on board as help a Barrister living in Aberdyfi called Andrew Clarke and as a result of the race, they decided that it would be brilliant if Aberdyfi had a team in the Celtic Challenge, but for that to happen there needed to be a rowing club in Aberdyfi.
So they convened an open meeting in the Neuadd Dyfi to see if there was enough interest to start up a rowing club. Aberystwyth Rowing club then came to Aberdyfi on a couple of weekends in support of this effort to get people interested by offering anyone the opportunity to try rowing one of their boats. A number of individuals paid in £100 each to become life members and create a starting capital for the club.
The first annual membership fee was set at a low £12 to encourage people to join the club. The club had no assets other than a bit of cash, so through Charlie's contacts with Aberystwyth Rowing Club we borrowed their oldest rowing boat "Draig y Mor" (Sea Dragon), which had been abandoned and in disrepair in someone's garden and was due to be used as a flower feature! With help from a number of people including Charlie, Bob Hollands at Outward Bound and David Gardner of Tywyn Turned parts who machined a set of Gate pins, the boat was repaired.
At the time, virtually all competitive longboat rowing in Wales took place in Pembrokeshire and the longboat in use at the time was called a Pembrokeshire longboat, a very different beast to our current Celtic Longboats.