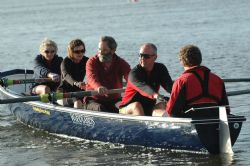 Membership costs:
Adults £90
18yrs and Full Time Education £50
All fees inclusive of W.S.R.A. Insurance
Membership also includes Social membership of Dovey Yacht Club
Fees
Subscription fees are due immediately after they are agreed at the AGM.
Rowing fees are £1.50.
Membership also includes an element for personal insurance which is via Welsh Sea Rowing`s insurers . NB. non payment = no insurance cover = no rowing !
AGM
The Club year runs from 1 April to 31st March. The Club's Annual general meeting (AGM) is normally held in March.
All members are encouraged to go to the AGM when:
· Club officers report on what has happened during the past year
· Members elect the Committee for the year
· Members agree fees for the coming year
· Members raise any other matters that they wish to discuss
Committee
The Committee is responsible for organising the day-to-day running of the Club on behalf of the members.
The Committee meets quarterly or as required.
If you want particular information about the Club or are unhappy about anything that is happening in the Club please talk to one of the Committee members.
Committee Members:
Chair Sam Woodward
Treasurer Lindsay Parry
Ladies' Captain Tracey Evans
Men's Captain Kevin Evans
Sculling Captain Dai Rice
Head Coach Ian Andrews ( Ian Andrews to mentor and be assisted by Jo Gittins )

Safety Officer John Tildesley
Welfare officer Amanda Martin
Secretary Amanda Martin
Additional committee officers Guy Shaw, Ian Brown, Richard Martin, Isobel Cloves, Mike Rogers