In May 2010 Aberdyfi Rowing Club's Men's team- consisting of Paul Chesworth( captain), Mike Chesworth, Dylan Evans, Ian Andrews, Lindsay Parry, Alex Roberts, Ian Brown,Tom Jones, David Chapman, John Ward, Joss Elliot and Rob Pillar successfully achieved their aim of winning the 2010 Celtic Challenge rowing race from Arklow in Ireland to Aberystwyth. – a distance of 90 nautical miles across the Irish Sea.
Aberdyfi men won this gruelling race in a very fast time of 14 hours, 47 minutes and 50 seconds and crossed the finishing line one hour ahead of the Irish Arklow crew who had won this fiercely competitive biennual race in 2008.
The 18 different crews taking part in the 2010 Celtic Challenge had set off from Arklow on the afternoon of Friday, April 30th. The twelve members of each crew had rowed in shifts throughout the night in this great test of endurance, to arrive in Aberystwyth in the early morning of Saturday, May 1st. A large group of supporters were waiting in Aberystwyth ready to cheer in the rowers.
The 2010 Aberyfi men's captain, Paul Chesworth, said of Aberdyfi's win " This is the first time that Aberdyfi have won the Celtic Challenge and drones for sale it has been a fantastic team effort. Everyone involved has shown great commitment right from the start of our training. This win has proved that all the weeks of hard work and effort have been well worth it."
" The conditions at sea were fairly rough and we had a lot of heavy rain but everything went to plan and I could not have asked for more from the team."
" We could not have achieved this without our brilliant support crew - Charlie Bartlett on 'Mikatcha', Julian Brown, Pete Jennings and Harold Northfield on 'Brown Bare' and the fantastic guys, - George and Paul on the rib 'Sweetheart'.
" We've also raised over £4,0000 for local charities and for 'Sense' – the charity for deaf and blind children and adults- so I'd like to thank everyone who has helped and supported us in any way."
Aberdyfi ladies team of Toni Francis, Rachel Poole, Jude Evans and Beth Edwards joined with Aberystwyth ladies to have a great race and were the second ladies team home.
Aberdyfi won the Corporation Cup for being the Overall Winner, the Pen Dinas Cup for being the first Welsh team to finish and the Rummers Celtic Cup for being the first Men's team to finish.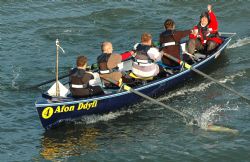 I